Evaluasi Kualitas Website Program Studi Sistem Informasi Universitas PGRI Madiun Menggunakan Webqual 4.0
Abstract

 
This study aims to determine the quality of the website of the Program Studi Sistem Informasi Universitas PGRI Madiun (or later called Prodi SI UNIPMA) with the Webqual 4.0 method which has 4 variables, namely quality of use, quality of information, interaction services and overall quality. The population in this study were students of SI UNIPMA Study Program where 21 respondents were taken as samples. Multiple linear regression analysis is used to test the relationship between variables Webqual 4.0 and student satisfaction. From the results of this study, it can be concluded that the most influential variable in satisfaction is the quality of information with a value of 14.131 and the smallest is the variable quality of use with a value of 2.266. So the recommendations for the website can be obtained is to increase the dimensions of the website's usefulness to students.

Keywords

Webqual 4.0, website quality, multiple linear regression
Downloads
Download data is not yet available.
References
I. Sanjaya, "PENGUKURAN KUALITAS LAYANAN WEBSITE KEMENTERIAN KOMINFO DENGAN MENGGUNAKAN METODE WEBQUAL 4.0 MINISTRY OF COMMUNICATION AND INFORMATION WEBSITE QUALITY MEASUREMENT BASED ON WEBQUAL 4.0 METHOD," J. Penelit. IPTEK-KOM, vol. 14, no. 1, 2012.

Y. Prasetyo dan D. O. Siahaan, Prosiding Seminar Nasional Manajemen Teknologi XVI Program Studi MMT-ITS. 2012.

A. W. Soejono, A. Setyanto, dan A. F. Sofyan, "Evaluasi Usability Website UNRIYO Menggunakan System Usability Scale (Studi Kasus: Website UNRIYO)," J. Teknol. Inf. Respati, vol. 13, no. 1, Mar 2018.

R. Pamungkas, Teori dan Implementasi Pemrograman WEB, 1 ed., no. 1. Madiun: Unipma Press, 2018.

G. P. Utama, A. Hamzah, dan U. Lestari, "SISTEM PENGUJIAN KUALITAS WEBSITE MENGGUNAKAN METODE WEBQUAL 4.0 (STUDI KASUS PADA PORTAL SISTEM INFORMASI AKADEMIK DI INSTITUT SAINS & TEKNOLOGI AKPRIND YOGYAKARTA)," J. Scr., vol. 4, no. 2, Nov 2017.

R. Pamungkas, "Perancangan Sistem Informasi Pembayaran Administrasi SMK Negeri 1 Jiwan," INTENSIF, vol. 1, no. 2, hal. 129, Agu 2017.

S. Sucipto and J. Karaman, "Perancangan Sistem Informasi Strategis Balai Desa Gadungan Untuk Integrasi Sistem Informasi Publikasi," in Seminar Nasional Teknologi Informasi dan Multimedia 2015, 2015, p. 2.3-31-2.3-36.

W. Abbas, ANALISA KEPUASAN MAHASISWA TERHADAP WEBSITE UNIVERSITAS NEGERI YOGYAKARTA (UNY), vol. 6. 2015.

J. Jillbert, "Subjective and objective measurement of websites quality in a chemical industry," J. Syst. Integr., vol. 5, no. 4, pp. 9–18, 2014.

R. Tehrani and H. Jamshidi, "Analysis of the Impact Factors Information Quality , System Quality , Interface Design Quality on Customer Loyalty System Websites According to the Role of Satisfaction and Trust ، ﻲﺗﺎﻋﻼﻃا ﻞﻣاﻮﻋ يراﺬﮔﺮﻴﺛﺄﺗ ناﺰﻴﻣ ﻞﻴﻠﺤﺗ يرادﺎﻓو ﺮﺑ ﺮﺑرﺎﻛ ﻂﺑار ﻲﺣاﺮﻃ و ﻲﻤﺘﺴ ﻴﺳ," Iran. J. Inf. Process. Manag., vol. 30, no. 4, pp. 1085–1106, 2015.

N. Q. Nada dan S. Wibowo2, "Pengukuran Kualitas Layanan Sistem Informasi Akademik Menggunakan Metode Webqual 4.0," J. Inform. Upgris, vol. 1, no. 2 Desember, 2015.

Y. Pratama dan D. S. Kusumo, "Pengukuran Kualitas Website CDC Universitas Telkom Menggunakan Metode WebQual 4.0," eProceedings Eng., vol. 2, no. 1, Apr 2015.

A. E. Wibowo, Aplikasi Praktis SPSS dalam Penelitian. Yoyakarta: Gava Media, 2012.

S. J. Barnes dan R. T. Vidgen, "Barnes & Vidgen: An Integrative Approach to the Assessment of E-Commerce Quality AN INTEGRATIVE APPROACH TO THE ASSESSMENT OF E-COMMERCE QUALITY."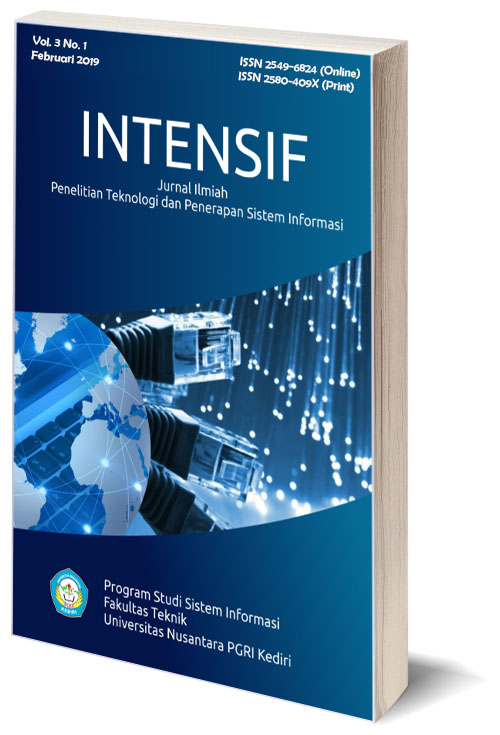 This work is licensed under a Creative Commons Attribution-ShareAlike 4.0 International License.
Authors who publish with this journal agree to the following terms:
Copyright on any article is retained by the author(s).
Author grant the journal, right of first publication with the work simultaneously licensed under a Creative Commons Attribution License that allows others to share the work with an acknowledgement of the work's authorship and initial publication in this journal.
Authors are able to enter into separate, additional contractual arrangements for the non-exclusive distribution of the journal's published version of the work (e.g., post it to an institutional repository or publish it in a book), with an acknowledgement of its initial publication in this journal.
Authors are permitted and encouraged to post their work online (e.g., in institutional repositories or on their website) prior to and during the submission process, as it can lead to productive exchanges, as well as earlier and greater citation of published work.
The article and any associated published material is distributed under the Creative Commons Attribution-ShareAlike 4.0 International License