Role-Play As A Method To Overcome Students' Anxiety In Speaking Skill
Ahmat Rondi Toyib

STKIP Al Hikmah Surabaya

Ahmad Syafi'i

STKIP Al Hikmah Surabaya
Abstract

 
English Language becomes one of compulsory subject and tested on National Examination. Then, students are expected to not only pass the National Examination but also can master skills in learning English. The most difficult skill to be mastered is speaking. It caused of the lack of motivation from students, the inappropriate method used by the teacher, and the use of media. In other reason, students are rarely given time to practice. It makes them feel anxiety when they are speaking. To overcome that problem teacher can use role-play method in order to overcome students' anxiety in speaking skill. Through this method, students are fully involved in the activity and have chance to speak with their friends.

Keywords

role-play method, students' anxiety, speaking skill
Downloads
Download data is not yet available.
References
Afdillah, M. N. 2015. THE EFFECTIVENESS OF ROLE PLAY IN TEACHING SPEAKING (An Experimental Study for Eighth Grade of SMPN 244 North Jakarta). Skripsi. UIN Syarif Hidayatullah, Jakarta.

Arham, R. et al. 2016. The Use of Role Play to Improve Teaching Speaking. International Journal of Scientific and Research Publications, Vol. 6, Issue 3, March 2016.

Hadi, L. H. 2015. Using the Role-Play Technique to Improve the Speaking Skills of Grade XI Students of SMAN 1 Panggang in the Academic Year 2014/2015. Skripsi. Universitas Negeri Yogyakarta.

Kusnierek, Anna. 2015. Developing Students' Speaking Skills Through Role-Play. World Scientific News 7 page 73-111.

Nopiani, K. A. 2014. TEACHING SPEAKING SKILL THROUGH ROLE PLAY TO THE SEVENTH GRADE STUDENTS OF SMP NEGERI 1 PAYANGAN IN ACADEMIC YEAR 2013/2014.Tesis. Universitas Mahasaraswati Denpasar, Bali.

Panjaitan, M. O. 2013. ANALISIS STANDAR ISI BAHASA INGGRIS SMP DAN SMA
(ANALYSIS OF CONTENT STANDARDS FOR ENGLISH IN JUNIOR SECONDARY SCHOOL AND SENIOR SECONDARY SCHOOL). JurnalPendidikandanKebudayaan, Vol. 19, Nomor 1, Maret 2013.

Sumpana. 2010. IMPROVING THE STUDENTS' SPEAKING SKILL BY ROLE PLAY ( A Classroom Action Research on the Eleventh Grade Students of Immersion Program 1 of the State Senior High School of Karangpandan Academic Year 2009/2010). Tesis. Universitas Muhammadiyah Surakarta.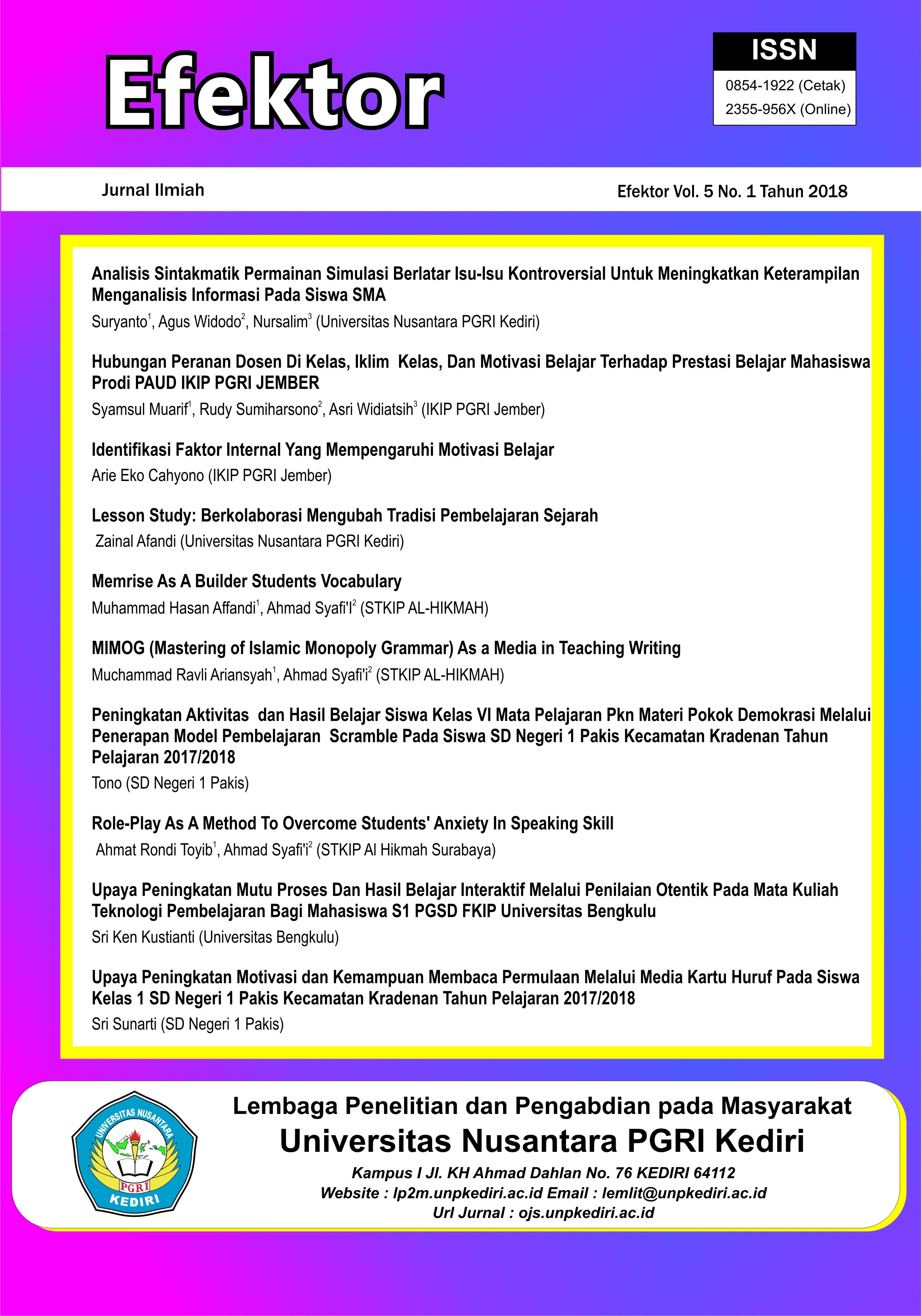 This work is licensed under a Creative Commons Attribution-ShareAlike 4.0 International License.
Authors retain copyright and grant the journal right of first publication with the work simultaneously licensed under a Creative Commons Attribution-ShareAlike 4.0 International License that allows others to share the work with an acknowledgment of the work's authorship and initial publication in this journal.