PENINGKATAN HASIL BELAJAR SISWA KELAS V DENGAN MODEL PEMBELAJARAN SAVI PADA MATA PELAJARAN IPA DI SDN MANGKUJAYAN I KABUPATEN PONOROGO
Naniek Kusumawati

Universitas PGRI Madiun
Abstract

The result of observation in state elementary school Mangkujayan I at learning process on 5th grade which is still conventional so student's mindset's development and  creativity is less. There are some teachers especially 5th grade's teachers which only tell the learning material to the students and the students only listen, make a note and memorize the material. This study aims to improve student learning outcomes, especially on science subjects class V using SAVI learning model. This research uses classroom action research or CAR. This research procedure uses four steps of cycle such as planning, implementating, observing and reflecting step. Data collection technique is cognitive test and data collection instrument is test and observation instrument. Analysis of the data obtained shows that there is an increase in student learning outcomes that can be seen from the average percentage of the results in the first cycle is 65% which means there are 13 of 20 students who complete. There is 90% increasing on second cycle which means 18 of 20 students who can be succes on learning. Based on the research result, it can be concluded that the implementation of SAVI learning model can increase the study performance of students on natural studies of 5th grade of  SDN Mangkujayan I.
Keywords: SAVI learning models, study performance IPA.

Keywords

SAVI learning models, study performance IPA.
Downloads
Download data is not yet available.
References
Arikunto, Suharsimi. 2009. Penelitian Tindakan Kelas. Jakarta: PT Bumi Aksara.
Djamarah, Syaiful Bahri. 2012. Prestasi Belajar dan Kompetensi Guru. Surabaya: Usaha Nasional.
Kusumawati, Naniek. 2017. Pengaruh Model Pembelajaran Kooperatif Dengan Snowball Throwing Terhadap Hasil Belajar IPA Pada Siswa Kelas IV SDN Bondrang Kecamatan Sawoo Kabupaten Ponorogo Tahun Pelajaran 2016/2017. Jurnal Ibriez. Volume 02 Nomor 1 Tahun 2017.
Kusumawati, Sri Wahyuni, dkk. 2013. Model Pembelajaran SAVI untuk Meningkatkan Ketrampilan Pemecahan Masalah. http://ejournal.unesa.ac.id/article/5401/18/article.pdf. (di akses pada tangal 3 Maret 2016 pukul 15:43).
Sagala, Syaiful. 2013. Konsep dan Makna Pembelajaran. Bandung: Alfabeta
Sani, Ridwan Abdulah. 2013. Inovasi Pembelajaran. Jakarta: Bumi Aksara.
Trianto. 2014. Model Pembelajaran Terpadu. Jakarta:Bumi Aksara.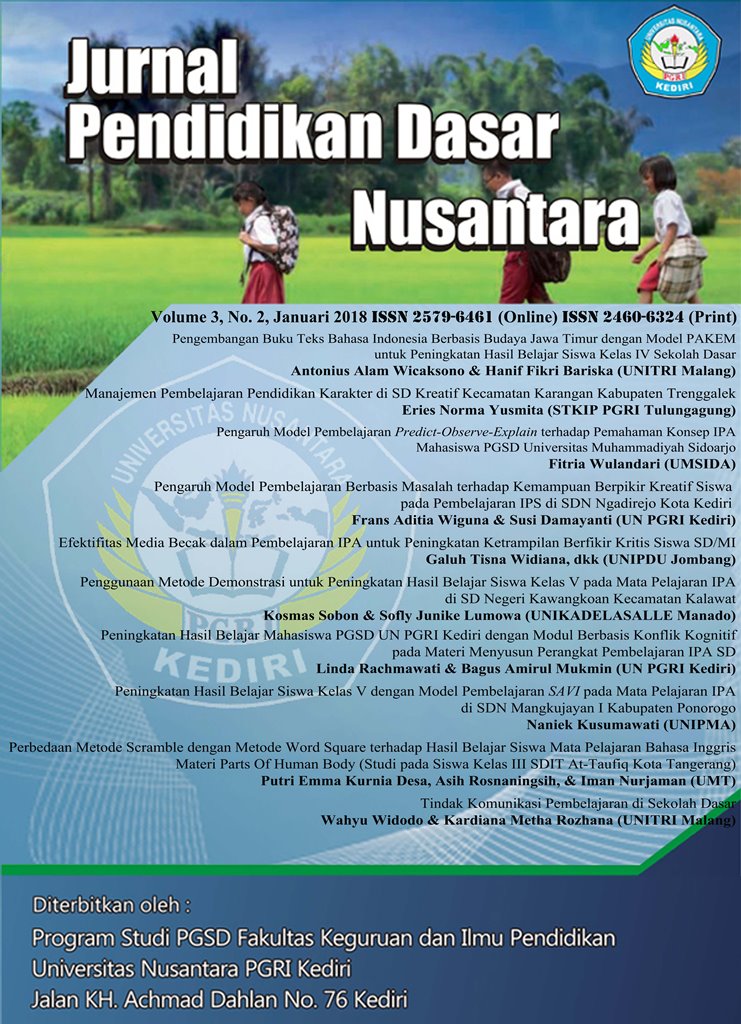 This work is licensed under a Creative Commons Attribution 4.0 International License.