PENGARUH MODEL PEMBELAJARAN PREDICT-OBSERVE-EXPLAIN TERHADAP PEMAHAMAN KONSEP IPA MAHASISWA PGSD UNIVERSITAS MUHAMMADIYAH SIDOARJO
Fitria Wulandari

Universitas Muhammadiyah Sidoarjo
Abstract
This research begins from the problems students of primary school teacher education Universitas Muhammadiah Sidoarjo which is low in developing their understanding on the concept of science. Students are still having difficulties when understanding the basic concept materials of science. The average midterm students exam score is 64.57. It is still less than 65. This research was conducted with the aim to know the influence of Predict-Observe-Explain learning model to understanding the concept of science of students. Based on this objective, this research uses experimental quantitative research design. Researchers use descriptive statistics with the type of experimental method used is One Group Pretest-Posttest Design. The instrument used by the researcher is a science comprehension concept test sheet. To test the hypothesis and answer the problem formulation of data analysis technique used is N-Gain test. The results showed that Predict-Observe-Explain learning model influenced the understanding of student science concept. It can be seen from the result of the average score before getting treatment by giving pretest about 66,28. Furthermore, after being given treatment by using Predict-Observe-Explain model of learning PGSD students solve the Posttest problem by getting an average score of 83.14. Then the averages are used to identify the influence of the Predict-Observe-Explain model of learning on the understanding of the student science concept. From the result of N-Gain value shows that its influence is 0,49 with medium criterion.
Keywords: predict-observe-explain learning model, understanding science, students of primary school teacher education.
 
References
Indrawati & Setiawan, Wanwan. 2009. Pembelajaran Aktif, Kreatif, Efektif, dan Menyenangkan untuk Guru SD. Jakarta: PPPPTK IPA.
Lorin W. Anderson & David R. Krathwohl.2010. Pembelajaran, Pengajaran, dan Asesmen. Yogyakarta : Pustaka Pelajar.
Rusman. 2012. Model-Model Pembelajaran Mengembangkan Profesionalisme Guru. Bandung : PT RAJAGRAFINDO PERSADA.
Sugiyono. 2017. Metode Penelitian Pendidikan (Pendekatan Kuantitatif, Kualitatif, dan (R&D). Bandung : ALFABETA.
Trianto. 2007. Model Pembelajaran Inovatif Berorientasi Konstruktivistik. Jakarta: Tim Prestasi Pustaka.
White and Gustone. 1992. Probling Understanding. Hongkong : Graficraft Typosetters Ltd.
Yanti, Herianti. 2014. Tanya Jawab Seputar Penelitian Pendidikan Sains. Jakarta:Universitas Syarief Hidayatullah.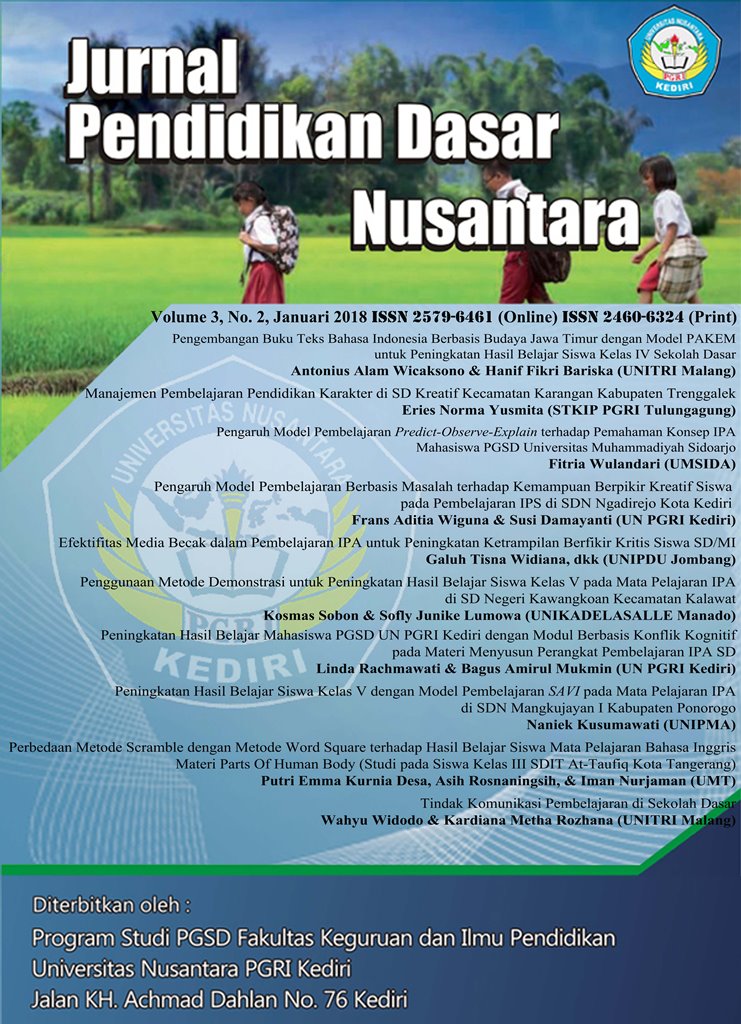 This work is licensed under a Creative Commons Attribution 4.0 International License.