Pembelajaran Autentik dalam Menulis Teks Deskripsi
Nurul Dwi Lestari

Universitas Negeri Malang
Abstract

 
Kreativitas menjadi salah satu keterampilan penting yang harus dimiliki generasi Z untuk hidup di Abad XXI. Keterampilan menulis kreatif teks deskripsi perlu diperhatikan untuk melatih kepekaan siswa dalam menggambarkan objek berdasarkan pengalaman inderawi. Penelitian ini bertujuan untuk mendeskripsikan pembelajaran autentik (authentic learning) dalam mengembangkan keterampilan menulis kreatif teks deskripsi.Adapun tujuan khusus dalam pembahasan ini adalah mendeskripsikanpembelajaran autentik sebagai pemicu berpikir kreatif dalam menulis teks deskripsi, langkah menulis kreatif teks deskripsi dengan pembelajaran autentik, dan penilaian keterampilan menulis kreatif teks deskripsi.

Keywords

pembelajaran, autentik, menulis kreatif, teks deskripsi
Downloads
Download data is not yet available.
References
Besemer, S.P. 2005. Be creative!, using creative product analysis in gifted education, Creative Learning Today, 13, 4, 1-4.
Besemer, S.P., & O'Quin, K. (1987). Creative product analysis: Testing a model by judging
instrument, In S.G. Isaken (ed), Frontier of Creativity Research: Beyond the Basic, Bufallo, New York: Bearly.
Blank, W. 1997. Authentic Instruction. Dalam Blank & S.Harwell (Eds.), Promising Practices for Connecting High School to the Real World (hlm. 15-21). Tampa, FL: University of South Florida.
Cropley, D.H., & Cropley, A.J. 2000. Fostering Creativity in Engineering Undergraduate, High Ability Studies, 12, 2.
Donovan, M.S., Bransford, J.D., & Pellegrino, J.W. (Eds). 1999. How People Learn: Bridging Research and Practice. Washington, DC: National Academy Press.
Hakim, M.A. 2008. Kiat Menulis Artikel di Media dari Pemula Sampai Mahir. Bandung: Nuansa.
Hasani, A. 2005. Ikhwal Menulis. Serang: Universitas Sultan Ageng Tirtayasa Press.
Hennessy, S., & Murphy, P. (1999). The potential for collaborative problem solving in design and technology. International Journal of Technology and Design Education, 9 (1), 1-36.
Jabrohim, dkk. 2001. Cara Menulis Kreatif. Yogyakarta: Pustaka Pelajar.
Jonassen, D., Howland, J., Marra, R.M., & Crismond, D. 2008. Meaningful Learning with Technology (3rd ed.). Upper Saddle River: Pearson Education, Inc.
Kurniawan, H. 2014. Pembelajaran Menulis Kreatif. Bandung: Remaja Rosdakarya.
Laur, D. 2013. Authentic Learning Experiences: A Real-World Approach to Project-Based Learning. London: Routledge.
Lombardi, M.M. 2007. Authentic Learning for the 21st Century: An Overview. Educause. (Online), http://www.lmi.ub.edu/cursos/s21/REPOSITORIO/documents/Lombardi_2007_Authentic_learning.pdf) diakses 15 Oktober 2017.
Maxwell, J.C. 2004. Berpikir Lain Dari Yang Biasanya (Thinking for A Change). Batam: Karisma Press.
Munandar, U. 2009. Pengembangan Kreativitas Anak Berbakat. Jakarta: Rineka Cipta.
Newmann, F.M., & G.G Wehlege. 1993. Five Standards of Authentic Instruction. Educational Leadership, 50 (7): 8–12.
Newmann, F., Bryk, A. S., & Nagaoka, J. K. 2001. Authentic Intellectual Work And Standardized Tests: Conflict Or Coexistence? Improving Chicago's Schools. Chicago: Consortium on Chicago School Research.
Nurgiyantoro, B. 2001. Menulis secara Populer. Jakarta: Pustaka Jaya.
Pranoto, N. 2011. Creative Writing. Jakarta: Primamedia Pustaka.
Priyatni, E.T. 2014a. Desain Pembelajaran Bahasa Indonesia dalam Kurikulum 2013. Jakarta: PT. Bumi Aksara.
Rhosalia, L.U., Laksono, K., Sukartiningsih, W. 2016. Kemampuan Berpikir Kreatif dalam Menulis Naratif Siswa Kelas V Sekolah Dasar Negeri di Kecamatan Gayungan Surabaya. Jurnal Review Pendidikan Dasar: Jurnal Kajian Pendidikan dan Hasil Penelitian, 2 (2): 166-174.
Suparno & Yunus. 2008. Keterampilan Dasar Menulis. Jakarta: Universitas Terbuka.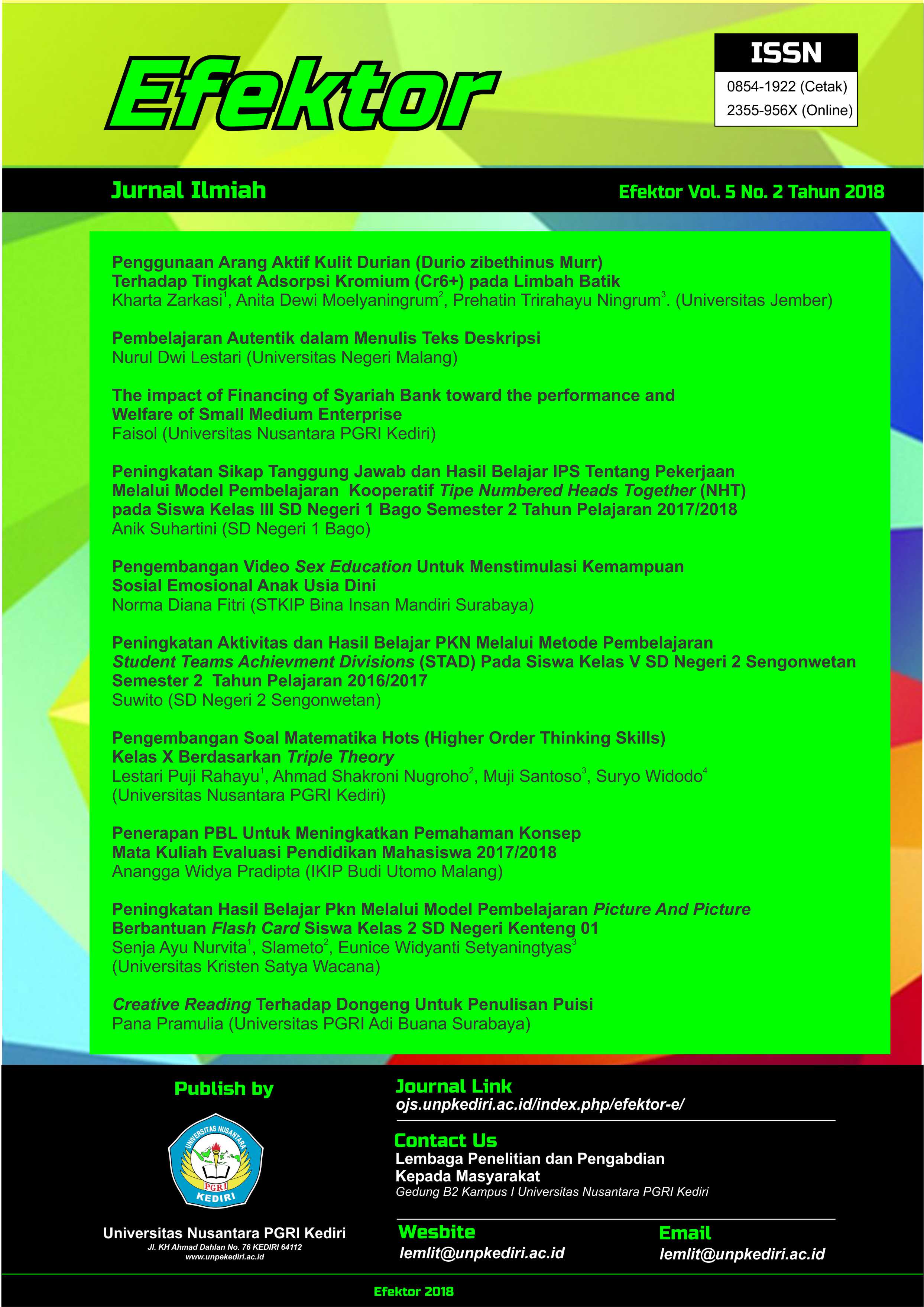 This work is licensed under a Creative Commons Attribution-ShareAlike 4.0 International License.
Authors retain copyright and grant the journal right of first publication with the work simultaneously licensed under a Creative Commons Attribution-ShareAlike 4.0 International License that allows others to share the work with an acknowledgment of the work's authorship and initial publication in this journal.