Perbandingan Latihan Bayangan dengan Drilling dan Strokes Terhadap Kecepatan Reaksi dan Ketepatan Smash
Gyta Krisdiana Cahyaningrum

Universitas Airlangga Surabaya

Elyana Asnar

Universitas Airlangga Surabaya

Tjitra Wardani

Universitas Airlangga Surabaya
Abstract

Pukulan smash merupakan salah satu teknik pukulan menyerang dalam permainan bulutangkis. Latihan pengulangan seperti bayangan, drilling dan strokes dapat meningkatkan kecepatan dan koordinasi gerakan. Namun, latihan kombinasi bayangan dengan drilling dan strokes dalam meningkatkan kecepatan reaksi dan ketepatan smash masih belum pernah dijelaskan. Tujuan penelitian ini untuk membuktikan latihan kombinasi bayangan dengan drilling (P1) lebih meningkatkan kecepatan reaksi dan ketepatan smash dibandingkan latihan kombinasi bayangan dengan strokes (P2). Penelitian ini termasuk eksperimental lapangan, subjek 18 orang dibagi secara random menjadi dua kelompok. Kedua kelompok diberi perlakuan 6 minggu dengan frekuensi latihan 4 kali seminggu. Tes kecepatan reaksi menggunakan alat whole body reaction dan tes ketepatan smash menggunakan tes kemampuan ketepatan smash. Hasil uji t berpasangan pada kecepatan reaksi P1 0,277±0,08 dan P2 0,270±0,629, ketepatan smash P1 11,25±3,732 dan P2 8,625±2,446, menunjukkan adanya peningkatan kemampuan kecepatan reaksi dan ketepatan smash yang signifikan. Hasil uji t independent perubahan pretest ke posttest pada P1 dan P2 adalah 0,832 dan 0,118, maka terdapat perbedaan perubahan peningkatan kemampuan yang tidak signifikan. Kesimpulan penelitian ini adalah latihan kombinasi bayangan dengan drilling dan latihan kombinasi bayangan dengan strokes keduanya dapat meningkatkan kemampuan kecepatan reaksi dan ketepatan smash bulutangkis.

Keywords

bayangan, drilling, strokes, kecepatan reaksi, ketepatan smash
Downloads
Download data is not yet available.
References
Ahmad, M., & Abdullah, S. (2014). Effect of Using Different Training Styles on Development of Badmenton Serving Accuracy, XIV(2), 476–480.

Atsan, T., Mizrak, O., Yalmanci, S. G., Eraslan-capan, B., Uygarer, G., Uzunboylu, H., Altun, B. (2015). The anthropologist, 21(3), 527–528.

Babatunde & Olusegun, E. (2014). Effects of Two Methods of Teaching Badminton Strokes on Skill Performance of Children, Journal of Emerging Trends in Educational Research and Policy Studies. 5 (8); 118-123.

Bańkosz, Z., Nawara, H., & Ociepa, M. (2013). Assessment of simple reaction time in badminton players, 1 (March), 54–61.

Budiwanto, S. (2013). Dasar-Dasar Teknik dan Taktik Bermain Bulutangkis. Malang: Universitas Negeri Malang.

Chansrisukot, G. Suwanthada, S. & Intiraporn, C. (2015). Cognitive Psychological Training in Combination with Explosive Power Training Can Significantly Enhance Responsiveness of Badminton Players. Journal of Exercise Physiology, 18 (2).

Ghuntla, T. P., Mehta, H. B., Gokhale, P. A., & Shah, C. J. (2014). Influence of practice on visual reaction time, 19(13).

Guyton AC & Hall JE, 2006. Guyton & Hall Textbook of medical physiology, Twelfth edition, Saunders Elsivier, United States of America.

Hamed, I., & Hassan, I. (2017). The Effect of Core Stability Training on Dynamic Balance and Smash Stroke Performance in Badminton Players, 2(3), 44–52. https://doi.org/10.11648/j.ijsspe.20170203.12

Icuk, F. & Kunta, P. (2002). Total badminton. Solo: CV Setyaki Eka Nugraha.

Islahuzzaman, I. (2010). Analisis Teknik Dasar Pukulan Bulutangkis Game 21 pada Tunggal Putra, Jurnal Pendidikan Olahraga dan Kesehatan; 3(1): 295-308.

Kalat, J. W. (2012). Biopsikologi, Biological Physiology. Jakarta: Salemba Humanika.

Kusuma, D. W. Y. (2015). Introducing a New Agility Test in Badminton. American Journal of Sports Science, 3(1), 18. https://doi.org/10.11648/j.ajss.20150301.14

Lauralee, S. (2016). Human Physiology: from Cells to Systems, Ninth edition, Cengage Learning, Canada.

Liu, T., Shao, M., Yin, D., Li, Y., Yang, N., Yin, R., & Leng, Y. (2017). Neuroscience Letters The e ff ect of badminton training on the ability of same-domain action anticipation for adult novices : Evidence from behavior and ERPs. Neuroscience Letters, 660(May), 6–11. https://doi.org/10.1016/j.neulet.2017.08.038

PB. PBSI. (2006). Buku Pedoman Bulutangkis. Jakarta: PB. PBSI.

Shelton, J., & Kumar, G. P. (2010). Comparison between Auditory and Visual Simple Reaction Times, 2010 (September), 30–32. https://doi.org/10.4236/nm.2010.11004

Subardjah, H. (2000). Bulutangkis. Bandung: Pioner Jaya.

Suharno, H.P. (1993). Metodologi Pelatihan. Jakarta: Pusat Pendidikan dan Penataran Koni.

Suneeta, D. (2017). The Effect of Ball Badminton Game on The Rallying Ability of The Badminton Players At Inter College Level, International Journal of Engineering Sciences & Research Technology, 6(3).

Wijaya, A. (2017). Analisis Gerak Keterampilan Servis dalam Permainan Bulutangkis (Suatu Tinjauan Anatomi, Fisiologi, dan Biomekanika. Indonesia Performance Journal, 1(2): 106-111.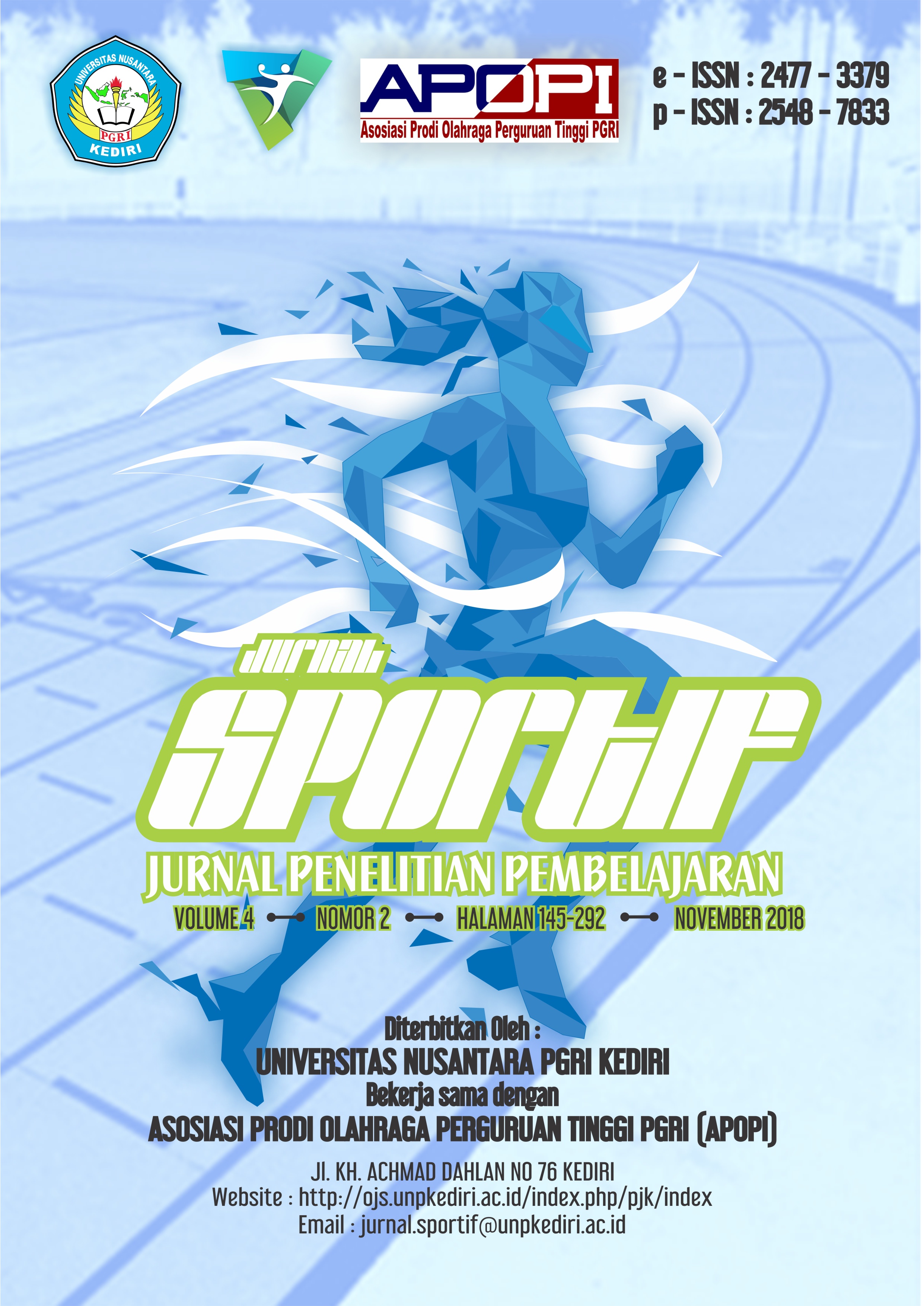 This work is licensed under a Creative Commons Attribution 4.0 International License.
Authors retain copyright and grant the journal right of first publication with the work simultaneously licensed under a Creative Commons Attribution 4.0 International License that allows others to share the work with an acknowledgement of the work's authorship and initial publication in this journal.