PROSES BERPIKIR SISWA SMP MENGONSTRUKSI BUKTI INFORMAL GEOMETRI SEBAGAI PROSEP YANG DIREPRESENTASIKAN SECARA VISUAL/SIMBOLIK
Faaso Ndraha

IKIP Gunungsitoli, Nias, Sumatera Utara
Abstract

AbstrakThis paper was aimed to describe the stages of the thinking processes of junior high school students in constructing geometry informal proof as procept that representedvisually/ simbolically. Uncovering the thinking process was conducted when the studentsbegan to construct proof of a theorem that they never proved to the point of thinkingabout the process and concept of the proof proceptually. This study used qualitativeapproach. The results of this study revealed that the stage of the thinking process ofjunior high school students in constructing geometry informal proofs as a proceptrepresented visually/symbolically begins with (1) identifying stage, (2) mobilization andorganization, (3) planning stage, (4) application stage, (5) the stage of giving a meaning,(6) evaluation stage, (7) the procept stage.  Keywords: procept, geometry visual/symbolical proof, thinking processes.
Downloads
Download data is not yet available.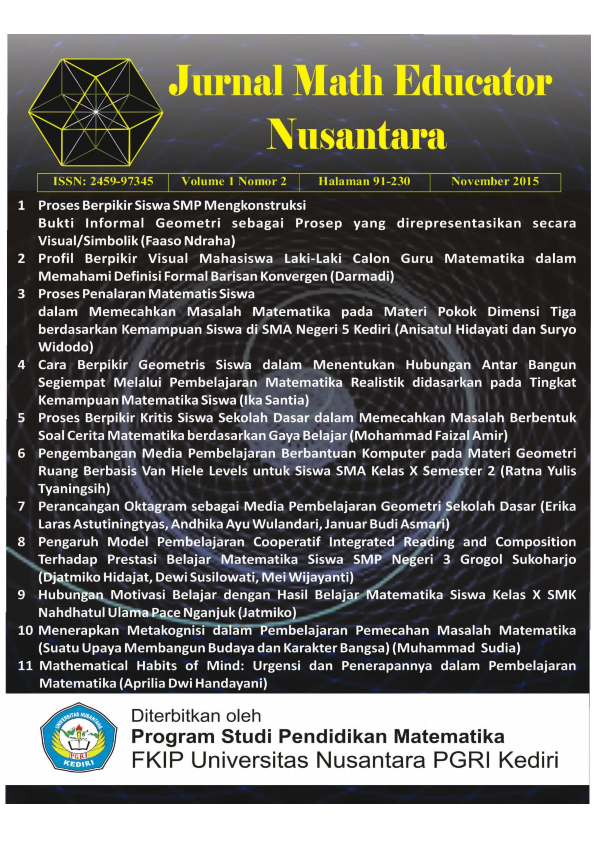 How to Cite
NDRAHA, Faaso. PROSES BERPIKIR SISWA SMP MENGONSTRUKSI BUKTI INFORMAL GEOMETRI SEBAGAI PROSEP YANG DIREPRESENTASIKAN SECARA VISUAL/SIMBOLIK.
Jurnal Math Educator Nusantara: Wahana Publikasi Karya Tulis Ilmiah di Bidang Pendidikan Matematika
, [S.l.], v. 1, n. 2, feb. 2016. ISSN 2580-9210. Available at: <
http://ojs.unpkediri.ac.id/index.php/matematika/article/view/230
>. Date accessed: 22 sep. 2019.