CASH POSITION, DEBT TO EQUITY RATIO, RETURN ON ASSET DAN FIRM SIZE TERHADAP DIVIDENT PAYOUT RATIO
Edi Setiawan

Universitas Muhammadiyah Prof. DR. HAMKA

Faizal Ridwan Zamzani

Universitas Muhammadiyah Prof. Dr. HAMKA

Nur Fitri Amelia

Universitas Muhammadiyah Prof. Dr. HAMKA
Abstract

This research is aimed to knowing and analyzing the effect of the cash position, debt to equity ratio, return on asset and firm size to divident payout ratio. The type of data used in this study is pool data which is a combination time series, and cross section. panel data regression anlaysis test, election panel data reression estimation techniques, heteroscedasticity test, regression model analysis, and regression model testin and regression coefficients. The result showed that the partial debt to equity ratio and firm size no significantly influence the divident payout ratio, while the cash position, return on asset significantly influence the divident payout ratio. Simultaneously, cash position, debt to equity ratio, return on asset and firm size variable have a significant to divident payout ratio.

Keywords

Cash position, debt to equity ratio, return on asset, firm size
References
Arifin. Z. (2012). Teori Keuangan Dan Pasar Modal. Yogyakarta: Ekonesia.
Barlian & Sundjaja. (2013). Manajemen keuangan pendekatan matematis. Jakarta: PT. Gramedia Pustaka Utama.
Fakhruddin & Darmaji. (2012). Analisis laporan keuangan (Edisi Tujuh). Jakarta: Erlangga.
Hanafi. (2013). Analisis laporan keuangan. Yogyakarta: UPP STIM YPKN
Harahap. (2010). Analisis kritis atas laporan Keuangan. Jakarta: Rajawali Persada.
Kasmir. (2012). Analisis Lapora Keuangan. Jakarta: PT. Raja Grafindo Persada.
. (2013). Analisis Laporan Keuangan. (Edisi Satu) Cetakan Ke 6. Jakarta: Rajawali Pers.
Pujiastuti, Triani. (2013). Biaya Agensi terhadap Kebijakan Dividen pada Perusahaan Go Public di Indonesia. Jurnal Keuangan dan Perbankan, Vol.12 No.2.
Riyanto .(2012). Dasar-Dasar Pembelanjaan Perusahaan. (Edisi 4). Yogyakarta: Yayasan Penerbit Gajah Mada.
Sartono, Agus. (2012). Manajemen Keuangan Teori dan Aplikasinya. (Edisi Empat). Yogyakarta: BPFE.
Sartono. (2013). Manajemen Keuangan Teori & Aplikasinya. Yogyakarta: BPFE.
Sudarsi, Sri. (2012). Manajemen Keuangan. (Edisi Tiga). Jakarta: Mitra Wacana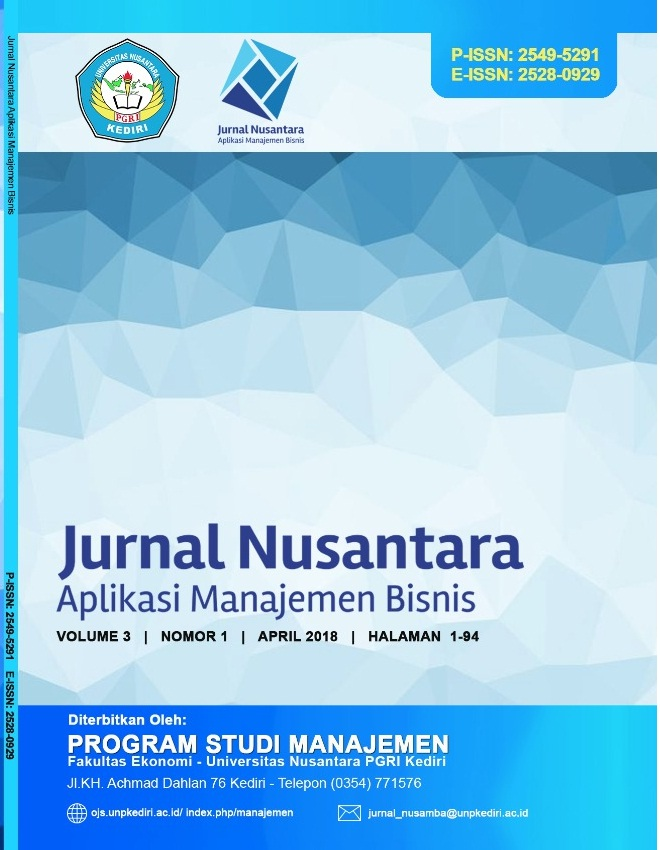 How to Cite
SETIAWAN, Edi; ZAMZANI, Faizal Ridwan; AMELIA, Nur Fitri. CASH POSITION, DEBT TO EQUITY RATIO, RETURN ON ASSET DAN FIRM SIZE TERHADAP DIVIDENT PAYOUT RATIO.
JURNAL NUSANTARA APLIKASI MANAJEMEN BISNIS
, [S.l.], v. 3, n. 1, p. 78-87, apr. 2018. ISSN 2528-0929. Available at: <
http://ojs.unpkediri.ac.id/index.php/manajemen/article/view/11980
>. Date accessed: 19 feb. 2019. doi:
https://doi.org/10.29407/nusamba.v3i1.11980
.
This work is licensed under a Creative Commons Attribution-ShareAlike 4.0 International License.
Authors retain copyright and grant the journal right of first publication with the work simultaneously licensed under a Creative Commons Attribution 4.0 International License that allows others to share the work with an acknowledgement of the work's authorship and initial publication in this journal.