Pemetaan Persebaran Nasabah Kredit Macet Perusahaan Multifinance
Studi Kasus PT. XYZ Cabang Salatiga
Edwin Zusrony

Universitas Kristen Satya Wacana

http://orcid.org/0000-0002-7298-3283

Wreda Kuncoro

Universitas Kristen Satya Wacana

Nurrochman Nurrochman

Universitas Kristen Satya Wacana
Abstract

 
A financing company is a business institution that runs financing activity in procurement of goods and or services (POJK No. 29/2014). Financing company development in urban area, especially in Salatiga area has been experiencing great progress, as a numerous financing companies have opened their branches in Salatiga. The research aims to classify PT. XYZ Finance Salatiga branch customer distribution by using Geographical Information System that it is practical for the company to determine potential market in order to grow the number of potential customer. Within the research there are GIS activity steps that cover arranging spatial and non spatial demography data of Salatiga and customers distribution region's description in Salatiga. Bad credits distribution in PT. XYZ Salatiga branch has its biggest percentage in Argomulyo district that almost reach 51% from total credit plafond (outstanding principal) given. The research result will be able to help the company to make business decision related to determining the eligibility of prospective customers.

Keywords

Geographical Information System, Finance, Customer, Non Performance Loan
References

OJK, Peraturan Otoritas Jasa Keuangan. Indonesia: OTORITAS JASA KEUANGAN, 2018.

BFI Finance, "Profil BFI Finance." [Online]. Available: www.bfi.co.id. [Accessed: 14-Mar-2018].

PEMKOT, "KEADAAN GEOGRAFIS KOTA SALATIGA," 2018. [Online]. Available: http://salatigakota.go.id/TentangGeografi.php. [Accessed: 13-Mar-2018].

Z. Z. Oka Aviani Savitri and N. dan N. Firdausi, "ANALISIS MANAJEMEN RISIKO KREDIT DALAM MEMINIMALISIR KREDIT BERMASALAH PADA KREDIT USAHA RAKYAT," J. Adm. Bisnis, vol. 12, no. 1, pp. 1–10, 2014.

I. A. Christy, Kertahadi, and A. Husaini, "EVALUASI IMPLEMENTASI KEBIJAKAN DAN PENGAWASAN KREDIT USAHA RAKYAT DALAM MEMINIMALISASI KREDIT MACET (Studi pada PT. Bank Rakyat Indonesia (Persero), Tbk Unit Tanjungrejo Malang)," J. Adm. Bisnis | Vol. 7 No. 1 Januari 2014 | Adm., vol. 7, no. 1, pp. 1–7, 2014.

Kasmir, "Ruang Lingkup Lembaga Keuangan Bank," in Bank dan Lembaga Keuangan Lainnya, 2013, p. 36.

R. A. Saraswati, "Peranan Analisis Laporan Keuangan, Penilaian Prinsip 5c Calon Debitur Dan Pengawasan Kredit Terhadap Efektivitas Pemberian Kredit Pada PD BPR Bank Pasar Kabupaten Temanggung," J. Nominal, vol. I, pp. 142–150, 2012.

L. Salvina Helling, "Perancangan Sistem Informasi Pelayanan Pelanggan Pada Citra Laundry Bogor," INTENSIF, vol. 2, no. 1, pp. 68–78, 2018.

H. Kurniawan, "Perancangan Sistem Informasi Geografis Objek Wisata Di Propinsi Sumatera Utara," JUSITI J. Sist. Inf. dan Teknol. Inf., vol. 3, no. 2, pp. 94–105, 2016.

F. Masykur, "Implementasi Sistem Informasi Geografis Menggunakan Google Maps Api Dalam Pemetaan Asal Mahasiswa," J. SIMETRIS, vol. 5, no. 2, pp. 181–186, 2014.

BPS, "Data Wilayah & Kependudukan Kota Salatiga," 2018. [Online]. Available: https://salatigakota.bps.go.id/. [Accessed: 25-Mar-2018].

R. Apriyanti and F. Rully, "PEMANFAATAN SISTEM INFORMASI GEOGRAFIS (SIG) DALAM PENENTUAN LOKASI PERUMAHAN DI KOTA DEPOK," in Prosiding Seminar Ilmiah Nasional Komputer dan Sistem Intelijen (KOMMIT), 2014, pp. 321–330.

P. BAPPEDA BENGKULU, "WEBSITE BAPEDDA BENGKULU," 2018. [Online]. Available: https://salatigakota.bps.go.id/.
C. Adi Pamungkas, "Interview with Supervisor about 'Multifinance PT. XYZ' on his home," 2018.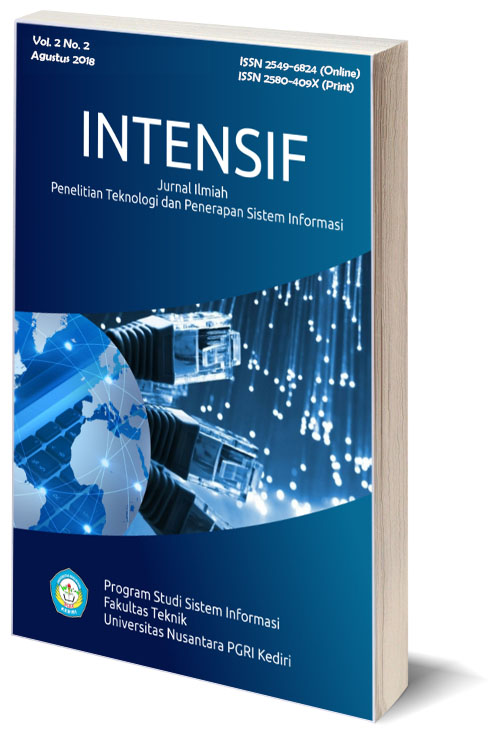 Section
Geographic Information System
This work is licensed under a Creative Commons Attribution-ShareAlike 4.0 International License.
The Authors submitting a manuscript do so on the understanding that if accepted for publication, copyright of the article shall be assigned to INTENSIF and University of Nusantara PGRI Kediri as publisher of the journal.

Copyright encompasses exclusive rights to reproduce and deliver the article in all form and media, including reprints, photographs, microfilms and any other similar reproductions, as well as translations. The reproduction of any part of this journal, its storage in databases and its transmission by any form or media, such as electronic, electrostatic and mechanical copies, photocopies, recordings, magnetic media, etc., will be allowed only with a written permission from INTENSIF and University of Nusantara PGRI Kediri.

INTENSIF and University of Nusantara PGRI Kediri, the Editors and the reviewer make every effort to ensure that no wrong or misleading data, opinions or statements be published in the journal. In any way, the contents of the articles and advertisements published in the INTENSIF are sole and exclusive responsibility of their respective authors and advertisers.

USER RIGHTS

All articles published Open Access will be immediately and permanently free for everyone to read and download. We are continuously working with our author communities to select the best choice of license options, currently being defined for this journal as follows: Creative Commons Attribution-Share alike (CC BY-SA)