"SEJUTA BAMBU UNTUK INDONESIAKU" Socio-Ecopreuneur Untuk Mensejahterakan Pengrajin Bambu Di Desa Hargomulyo, Gedangsari, Gunung Kidul, Yogyakarta dalam Momentum Masyarakat Ekonomi Asean (MEA)
Robist Hidayat

Universitas Muhammadiyah Yogyakarta

M. Irfan Zidni

Universitas Muhammadiyah Yogyakarta
Abstract

Indonesia's bamboo potential is currently ranked third after India and China. Bamboo holds enormous opportunities and potential to be utilized in improving the economy. However, the potential of bamboo possessed by this nation has not been utilized optimally, this material is very important because it can be classified into sustainable germplasm, with a note that the use is not excessive and the extraction is right. What happened in Indonesia, bamboo continued to be cut down without any effort to plant and maintain so that the number of bamboo populations continued to decline. Some areas with good potential for bamboo include Gunungkidul, Special Region of Yogyakarta. Efforts to increase the value of bamboo also need to be balanced with conservation efforts as an increase in bamboo biodiversity itself. The existence of the Asean Economic Community (AEC) at the end of 2015 is a broader economic and market integration. This indicates open competition for trade in goods, services, investment, capital and workers. From these problems, we create a socio-ecopreneur with the theme "a million bamboos for my Indonesia". This product is made from 100% bamboo material, then innovates on bamboo crafts to become a creative, eco-friendly, sustainable, and originally hand made the industrial product. This product is suitable for use as house accessories, household utilities, and others. This product uses traditional lamination technology (press) and bamboo preservation. we also developed a bamboo business management model that is beneficial for the economic resilience of local communities, especially for communities in Hargomulyo Village and at the same time beneficial to environmental biodiversity. Using a global interconnection ethnographic approach where we and the community are fully involved in the activity process starting from assessment, planning, implementation (action), until monitoring-evaluation.

Keywords

AEC, Bamboo, Creative industries, Society, Technology
Downloads
Download data is not yet available.
References
Environmental Bamboo Foundation, 1994. Petunjuk Kerja Pengawetan dengan Sistem Boucherie. Jawa Barat: Yayasan Bambu Lingkungan Lestari.

INBAR, and Government of Mizoram, 2001. Affordable Bamboo Housing in Earthquake

India: BMTPC. Building Materials and Technology Promotion Council (BMTPC). Bamboo: a material for cost effective and disaster resistant housing. New Delhi: Ministry of Urban Development & Poverty Alleviation.

Jansen, Jules, 2007. Building With Bamboo: A Handbook. Warwickshire: ITDG. Stulz, Roland, and Kiran Mukerji, 1993. Appropriate Building Materials: A Catalog of Potential Solutions. Switzerland: SKAT Publication.

Sikumbang, H. (n.d.) Bambu untuk Mengahadapi Pemanasan Global. Bambu untuk Menghadapi Pemanasan Global.

Tsing, Anna Louwenhaupt, 2005. Friction: An Ethnography of Global Connection. Princeton and Oxford: Princeton University Press.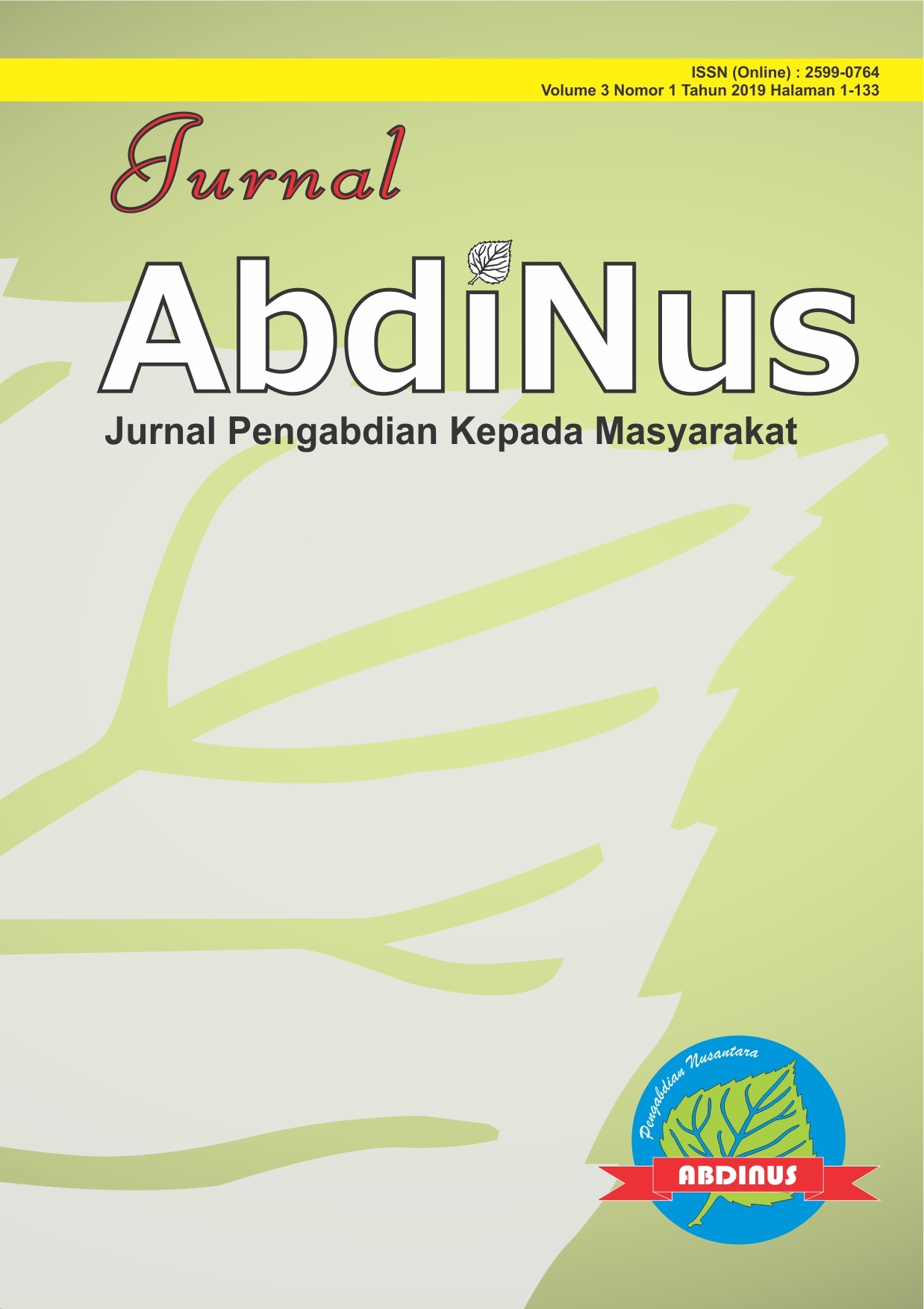 How to Cite
HIDAYAT, Robist; ZIDNI, M. Irfan. "SEJUTA BAMBU UNTUK INDONESIAKU" Socio-Ecopreuneur Untuk Mensejahterakan Pengrajin Bambu Di Desa Hargomulyo, Gedangsari, Gunung Kidul, Yogyakarta dalam Momentum Masyarakat Ekonomi Asean (MEA).
Jurnal ABDINUS : Jurnal Pengabdian Nusantara
, [S.l.], v. 3, n. 1, p. 111-120, sep. 2019. ISSN 2599-0764. Available at: <
http://ojs.unpkediri.ac.id/index.php/PPM/article/view/12673
>. Date accessed: 15 nov. 2019. doi:
https://doi.org/10.29407/ja.v3i1.12673
.
This work is licensed under a Creative Commons Attribution 4.0 International License.
Penulis mempertahankan hak cipta dan memberikan hak publikasi jurnal karya tersebut dilisensikan di bawah Creative Commons Attribution 4.0 International License yang memungkinkan orang lain membagikan karya tersebut dengan pengakuan dari karya penulis dan publikasi jurnal ini.